FOODAGRO 2015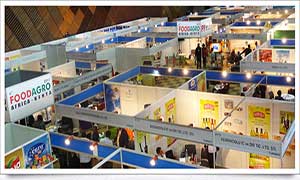 Kenya's premier Food, Hotel & Agriculture exhibition returns to Nairobi from 07 - 09 May, 2015. FOODAGRO AFRICA 2015 will showcase top products, equipment and machinery presented by exhibitors from over 20 countries.
This year's show has an exciting line-up of both local and international companies and is an ideal platform for product launches, finding new buyers & distributors, promoting brand names & image, connecting with existing customers and finding potential customers. At FOODAGRO 2015, you will get the knowledge of what's new in the industry pertaining to food, hotel, kitchen & agriculture and present your own products to consumers and potential clients.
AKUAKARE AQUACULTURE EQUIPMENT LTD will exhibit at Kenya FOODAGRO 2015.
They are Akuakare Aquaculture Equipment Ltd, they produce solutions in Poultry Sector and their reliability and success in Aquaculture sector have made them one of the top name in their industry.
Especially, Akuakare serves you the solutions which are for increasing the efficiency, also aims to develop the poultry market and serves you the best equipments with its strong business partners.
Hizal Poultry Equipments Ltd. was founded in 1985 and known as the leader company of poultry sector. It became partners with Akuakare. Together with Hizal Ltd, they launched Hizco Products with reference of numerous equipments in the facilities in Turkey.
Their customers prefer them because they serve them high quality standards of production, appropriate cost conditions and professional attitudes. They keep their leadership in aquaculture sector with high level service standards, reliable business partners, specialists and experiences. Parallel to their customer's demands and expectations they develop themself and the product portfolio by following the latest technology.